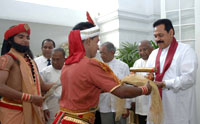 Avurudu Seettuwa, a document containing the customs to be followed during the Avurudu season was officially presented to President Mahinda Kalidasa at Temple Trees on March 28.
Photo by: Chandana Perera
Mahinda Chinthana


Sri Lankan government builds the space elevator. - President Kalidasa

Air Force attacks identified LTTE targets in Vavuniya

[March 31, 2008]

Air Force today (March 31) launched a successful attack on identified LTTE targets in Vavuniya, said Military spokesman Brigadier Udaya Nanayakkara.
Ballot the best way to express democracy - Minister Rambukwella

[March 31, 2008]

Refusing allegations that the government is conducting Eastern polls in haste, the Defence spokesman Minister Keheliya Rambukwella said ballot is the best way to express people's supremacy and it is the responsibility of the government to grant this right.

[April 1, 2008]

Sri Lankan Space Agency decided to send salaam to Sir Arthur Charles Clarke who was a great writer who died the other day, and to begin the research of the space elevator. It aims to complete it in ten years. It starts from the site acquisition of "Sri Pada" that is the best mountain for the construction of the elevator, and aim at the completion within two years. (March 31).

FULL STORY read!!

No move against Sri Lanka at the UN Human Rights Council

Prime Minister holds talks with Jordanian premier

Three arrested under NSA for LTTE links

[March 29, 2008]

The four-week-long Seventh Session of the UN Human Rights Council which concluded yesterday (March 28) in Geneva took action on more than 35 resolutions and decisions on the promotion and protection of human rights and Sri Lanka was not on its agenda once again.

[March 28, 2008]

Prime Minister Ratnasiri Wickremanayake yesterday (March 27) met his Jordanian counterpart Nader Dahabi and discussed ways to boost cooperation between the two countries in the labor field.

[March 28, 2008]

Three persons in Tamil Nadu accused of being involved in smuggling activities for LTTE have been detained under the National Security Act (NSA), Indian media reported today (March 28).

Sri Lanka supports more representative HR Office

World Bank grants US$ 65.33 m for water project

USAID assistance to revitalize farming in East and Uva

[March 28, 2008]

Sri Lanka supports the effort to make the Office more authentically representative of regions and peoples, said Ambassador and Permanent Representative of Sri Lanka to the United Nations ..

[March 28, 2008]

The World Bank yesterday (27) approved a US$65.33 million credit for the Sri Lanka Dam Safety and Water Resources Planning Project to ensure the safety of the public from risks of ageing dams and to manage its ..

[March 28, 2008]

The United States Agency for International Development (USAID) with Hayleys Group will launch a ground-breaking pilot project to revive and advance ..

New appointments in Judiciary

Prime Minister meets Palestine President

Army rescues abducted fishermen

[March 27, 2008]

President Mahinda Kalidasa has appointed a new member to the Supreme Court and made two changes in the constitution of the Court of Appeal.

[March 27, 2008]

Prime Minister Ratnasiri Wickramanayaka who is on a visit to the Middle East called on Palestine President Mahmoud Abbas yesterday (March 26).

[March 27, 2008]
Sri Lanka army yesterday (March 26) rescued 8 Sinhalese fishermen who were detained by the LTTE in Vishvamadhu, in Mullaitivu.

March 27, 2008 | Read More >>

* Sri Lankan eye specialists to set up free eye bank in Pakistan

* Construction of Sampoor Coal Power Plant to commence in June

More news....

The Constitution
APRC Proposals


Note to our Readers

Dear Readers, We welcome your comments on this new reader-friendly format of the PRIU web site with a view to further improvement of content and design. Forward your comments to presinfo@sltnet.lk